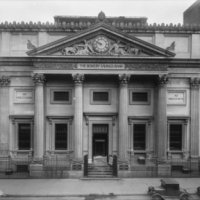 Tuesday, October 2, 2012 | 6:00 PM to 8:00 PM
The push and pull of regulating banks is a recurring, complex theme in the economic history of the city, influenced by crises, politics, social values and powerful personalities. Join us for a panel discussion about the foundations of regulatory practices in New York and the nation, and the patterns and pressures that have influenced their application historically and today. Presented in conjunction with the Museum of the City of New York's "Capital of Capital: New York's Banks and the Creation of a Global Economy" exhibit.
Featured participants include:
Charles Geisst, Ambassador Charles A. Gargano Professor of Finance, Manhattan College, and author of Undue Influence
Hugh Rockoff, Professor of Economics and Economic History, Rutgers University
Richard Sylla, Henry Kaufman Professor of the History of Financial Institutions and Markets, NYU Stern School
Eugene N. White, Professor of Economics, Monetary and Financial History, Rutgers University
Panel discussion will be followed by Q&A and reception. This program will be held at the Museum of American Finance, 48 Wall Street, New York City. MoAF members free; MCNY members $6; general public $15. For more information call 212-908-4110.