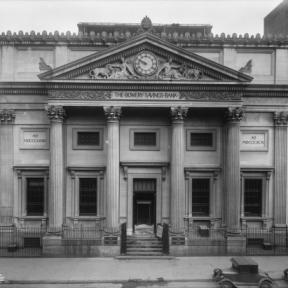 Wurts Brothers, "Bowery Savings Bank," 1927. MCNY Collection.
Monday, June 25, 2012 | 6:30 PM to 8:00 PM
Location:
Museum of the City of New York
1220 Fifth Avenue, New York, NY 10029 The Panic of 1792, the Crash of 1929, the bull market of the 1990s, the foreclosure crisis of 2007-8. The history of Wall Street is a series of speculative ups and crashing downs. Mark Gongloff, chief financial writer for the Huffington Post, moderates a panel discussion featuring historian Steven Fraser, author of
Every Man a Speculator
(Harper Collins, 2005); financial analyst and journalist Barry Ritholtz, author of
Bailout Nation
(John Wiley & Sons, Inc., 2009); and author and financial historian Robert E. Wright, professor at Augustana College, on some of the pivotal moments in banking history and how they've created a cyclical economic narrative.
This event is presented in conjunction with the Museum of the City of New York's exhibition, "Capital of Capital."
RESERVATIONS REQUIRED
$12 Non-members; $8 Seniors and Students; $6 Members (Please note: MoAF members should use discount code MOAF625)
Click here for online reservations. For more information or to register by phone, please call 917-492-3395.