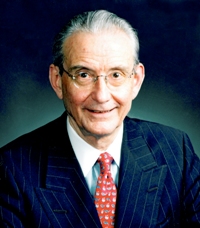 Tuesday, February 28, 2012 | 5:30 PM to 7:00 PM
Join us for a talk and reception with William R. Rhodes, president and CEO of William R. Rhodes Global Advisors, LLC and professor-at-large at Brown University. Mr. Rhodes is also a senior advisor for Citi, having stepped back from full-time responsibilities after more than 53 years with the institution. He most recently served as senior vice chairman and senior international officer of Citigroup and Citibank.
Mr. Rhodes gained a reputation for international financial diplomacy in the 1980s and 1990s as a result of his leadership in helping manage the external-debt crisis that involved developing nations and their creditors worldwide. He headed the advisory committees of international banks that negotiated debt-restructuring agreements for Argentina, Brazil, Jamaica, Mexico, Peru and Uruguay. He also chaired the international bank group that negotiated the extension of short-term debt of the Korean banking system in 1997-98, and he acted as worldwide coordinator to help implement the maintenance of trade and inter-bank lines by foreign commercial banks to Brazil in early 1999. He has since served as a trusted advisor to governments, financial officials and corporations worldwide.
He is a director of many for-profit and non-for-profit organizations and has received numerous decorations and honors from governments and institutions. He will speak on his recent book, Banker to the World: Leadership Lessons from the Front Lines of Global Finance.
Presentation will be followed by Q&A, book signing and reception. Reservations required. Admission is free for students and Museum members, or $15 for non-members. For additional information, please contact Tempris Small at 212-908-4110 or tsmall@moaf.org.