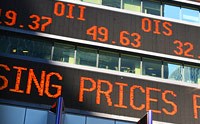 Thursday, January 26, 2012 | 6:00 PM to 8:00 PM
At a time of projected slower or negative GDP growth by developed countries, investors are looking even more to emerging public and private markets to deliver investment return. Are they right?
Join the Museum of American Finance and the Private Equity Committee of the Columbia Business School Alumni Club for a discussion of emerging markets investment performance in 2012. This panel will discuss these questions and others:
Which regions or sectors will outperform?
Will private, frontier, or smaller/non-index countries provide return uncorrelated with S & P , MSCI, or other Indexed markets?
What assumptions about Europe resolution are emerging market investors making?
Will China's economy in 2012 continue to power global growth, especially in emerging markets?
MODERATOR
Michael Weinberg, MD, Global Head of Equities, FRM, and CBS Alum
PANELISTS
Cate Ambrose, President Latin American Venture Capital Association (LAVCA)
Matt Crakes, Founder Greenheart Capital, Asian Equities Long/Short fund
Eric Fine, MD and PM, Van Eck Global G-175 Strategies Hedge Fund
Michelle Kelner, Partner-Strategist, Prince Street Capital Management, Emerging and Non-index Smaller Country Fund
Doors open at 5:30 pm for 6:00 pm presentation. Program will be followed by Q&A and reception. Reservations required. Admission is free for students and Museum members, or $15 for non-members. For additional information, please contact Tempris Small at 212-908-4110 or tsmall@moaf.org.
PLEASE NOTE: This event is sold out.