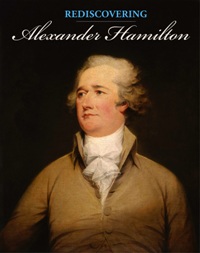 Tuesday, May 24, 2011 | 7:00 PM to 9:30 PM
Join us for a screening of the new PBS documentary, Rediscovering Alexander Hamilton, with commentary by producer/director Michael Pack. This event is FREE and open to the public. For additional information, please contact Tempris Small at 212-908-4110 or e-mail tsmall@moaf.org.
About the Film
Rediscovering Alexander Hamilton, by director/producer Michael Pack and writer/host Richard Brookhiser, re-invents the documentary biopic. Following the style of their acclaimed Rediscovering George Washington (2002), they take us to the Caribbean islands where Hamilton was born, to Yorktown and Wall Street where he fought and worked, to Harlem and Weehawken, New Jersey, where he lived and died. We hear a Treasury Secretary and a Supreme Court Justice, publishers, pornographers, lawyers, warriors, calypso singers and urban gang members talk about money, rights, news, battle, sex and honor — all the themes that shaped Hamilton's life, led him to his early death and helped him make modern capitalist America.
As America's first Treasury Secretary, Hamilton saved a debt-ridden emerging nation from banana republic status, saw us through a financial panic as bad as 2008, and foresaw our future as a modern mixed economy. As a practicing lawyer and a signer of the Constitution, he was a pioneer of judicial review. As a lifelong journalist—he reported on a hurricane in the Virgin Islands when he was fifteen—he inspired and wrote the op-eds that became the Federalist Papers, and founded the New York Post.
He accomplished it all against great odds. He was an illegitimate orphan; an immigrant; a brilliant Ivy Leaguer who dropped out to spend six years in the Army. He made powerful friends—George Washington—and powerful enemies—Thomas Jefferson. He was passionate and passionately forthright—he confessed to the nation's first sex scandal, and provoked the Vice President of the United States to challenge him to a duel.
His legacy is modern America, and its symbol is New York, his adopted city—urban, entrepreneurial open and diverse.