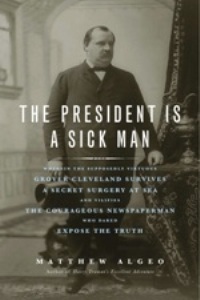 Wednesday, May 18, 2011 | 12:30 PM to 1:30 PM
Join author Matthew Algeo as he discusses his new book,
The President Is a Sick Man
, the true story of a secret cancer operation performed on Grover Cleveland in 1893. The surgery took place at the height of the Panic of 1893, and Cleveland, fearing news of his condition would only make matters worse, insisted on concealing his condition from the public. A story of business, politics, medicine and journalism in the Gilded Age,
The President Is a Sick Man
solves a longstanding political mystery: Why did the President disappear during the panic?
$5 tickets may be purchased at the door and include admission to the Museum. Feel free to bring your lunch. For information call 212-908-4110 or e-mail info@moaf.org.