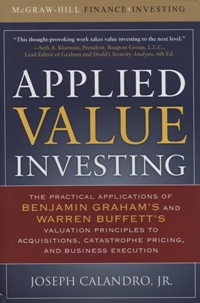 Wednesday, March 16, 2011 | 12:30 PM to 1:30 PM
Since Benjamin Graham fathered value investing in the 1930s, the method of analysis has spawned a large number of highly successful investors, such as Graham's own former student and employee, Warren Buffett, who is regarded as one of the most successful investors of modern times.
Over the years, numerous books have been published on Benjamin Graham's approach. Most of these books present different interpretations of value investing and are generally introductory based. Until now, there has not been an advanced hands-on guide for investors and executives who may want to apply the powerful value investing discipline outside of stocks and bonds.
Applied Value Investing takes the same time-proven approach Graham introduced with David Dodd in their 1934 masterpiece, Security Analysis, and extends it in a variety of unique and practical ways — including mergers and acquisitions, alternative investments and financial strategy.
Author Joseph Calandro, Jr. is also the Enterprise Risk Manager of a global financial services firm and a finance department faculty member at the University of Connecticut.
$5 tickets may be purchased at the door and include admission to the Museum. Feel free to bring your lunch. For more information call 212-908-4110 or e-mail info@moaf.org.