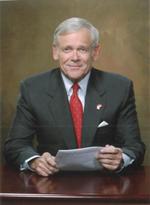 Tuesday, November 16, 2010 | 5:30 PM to 7:00 PM
For over 40 years William H. Donaldson has served at the highest levels of business, government and academia. He is currently a member of President Obama's Economic Recovery Advisory Board (PERAB), and is also Chairman of Donaldson Enterprises, a private investment firm. Until June 30, 2005 he was the 27th Chairman of the Securities and Exchange Commission. His tenure marked the greatest period of activity of the Agency since its founding in 1934.
Prior to heading the SEC, Mr. Donaldson was Chairman, President and Chief Executive Officer of Aetna, and before that served as Chairman and Chief Executive of the New York Stock Exchange. Earlier in his career, he was the Co-Founder, Chairman and Chief Executive Officer of the investment banking firm of Donaldson, Lufkin & Jenrette (DLJ) and helped found its subsidiary the Alliance Capital Management Corporation.
Mr. Donaldson left DLJ to accept a Presidential appointment as United States Undersecretary of State under Secretary Henry Kissinger and subsequently served as counsel to the then Vice President of the United States, Nelson Rockefeller. He then became Founding Dean and William S. Bienecke Professor of Management at the Yale University School of Management. Over the years he has been a director of 14 publicly held corporations and a number of privately held businesses.
Presentation will be followed by Q&A and reception. Reservations required. Admission is free for students and Museum members, or $15 for non-members. For additional information, please contact Lindsay Seeger at 212-908-4110 or lseeger@moaf.org.