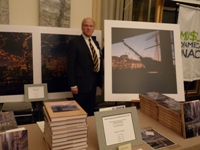 Tuesday, November 9, 2010 | 5:00 PM to 7:00 PM
Join us for a soiree reception, and meet some of the artists and authors whose works are featured in the Museum Shop. Our special guests will be on hand to discuss their projects and autograph copies of their works.
Participating artists and authors include Lori Savastano, Ellen Fisch, Hedy Page Pagremanski, Albert Crudo, Alan Messer, Jenna Lash, Mike Rollins, Inga Poslitur, Terry Meyer, Robert Gambee, Barbara Rizek, Randy Smith, Lloyd Fields, Richard Panchyk, Randall Gabrielan and Dorothy Laager Miller, among others.
Attendees will receive a 20% discount on all items purchased during this event, as well as a 20% discount on their next visit with receipt. This event is FREE and open to the public.