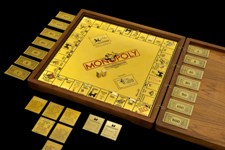 Friday, October 15, 2010 | 10:15 AM to 3:00 PM
To celebrate the unveiling of a jewel-encrusted, 18-karat gold Monopoly set, on loan from the Smithsonian Institution National Museum of Natural History, the Museum will host Monopoly tournaments for children and adults. The first tournament, scheduled to run from 10:15 am - 12 pm, is open to students under the age of 18. The second tournament, to be held from 1 - 3 pm, will be open to adults 18 years and up.
Both tournaments are free and open to the public and will be available on a first come, first served basis. Prizes will be awarded to one winner at each table. For information and reservations, please contact Lindsay Seeger at 212-908-4110 or lseeger@moaf.org.