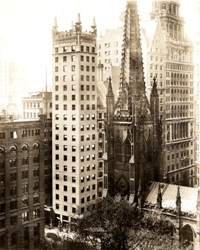 Wednesday, October 13, 2010 | 6:00 PM to 7:30 PM
Organized by
The Skyscraper Museum
in partnership with the Museum of American Finance, "Whither Wall Street" will address the changing fortunes of Wall Street –– not the forecast of financial markets, but the architectural assets and liabilities of the physical place.
A diverse panel of experts will discuss the recent history and possible futures of America's most famous street. Key topics include the widespread conversion of office buildings to residential, hotel and retail uses and the new demands on the design of the public realm that need to serve the conflicting needs of both access and security of a post-9/11 world.
Panelists include:
Carol Willis, Director, The Skyscraper Museum (Introduction and moderator)
Elizabeth H. Berger, President, Downtown Alliance
Rob Rogers, Principal, Rogers Marvel Architects; streetscape designers of Wall Street for the NYC Department of City Planning
Kent Swig, President of Swig Equities, LLC; owner of a portfolio of properties on Wall Street and in the financial district
Alexandros Washburn, Chief Urban Designer, NYC Department of City Planning
Panel discussion followed by Q&A and reception. Reservations required. Admission is free for students and members of the Museum of American Finance and the Skyscraper Museum, or $15 for non-members. For additional information, please contact Lindsay Seeger at 212-908-4110 or lseeger@moaf.org.