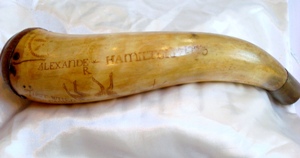 Wednesday, June 9, 2010 | 12:30 PM to 1:30 PM
The Museum is pleased to be exhibiting* Alexander Hamilton's powderhorn, which he carved in 1773 with a unique series of symbols, as well as his name and the date. Join us for a lunchtime event with Dr. Warren Richman, owner of the powderhorn, who will present his interpretation of the symbolism on this historical object. Dr. Richman has based his interpretation on an analysis of the philosophy of Sir Francis Bacon and Machiavelli, two of Hamilton's favorites, as well as Hamilton's 1769 letter to Ned Stevens.
$5 tickets may be purchased at the door and include admission to the Museum. Feel free to bring your lunch. For information call Lindsay Seeger at 212-908-4110.
*Powderhorn will be on display at the Museum beginning in mid-April 2010.