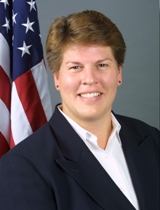 Wednesday, April 28, 2010 | 12:30 PM to 1:30 PM
Lori Schock, Director of the Office of Investor Education and Advocacy for the US Securities and Exchange Commission (SEC), will speak on "Financial Fraud."
The Office of Investor Education and Advocacy serves individual investors, ensuring that their problems and concerns are known throughout the SEC and are considered when the agency takes action. Investor assistance specialists within the Office answer questions, analyze complaints, and seek informal resolution of investors' problems. The Office also publishes free brochures and other educational materials on numerous investing topics.
Ms. Schock returned to the Commission in 2009 as the Director of the Office of Investor Education and Advocacy. In that capacity, she focuses primarily on investor education initiatives and provides advice on policy matters relating to investor protection. Ms. Schock joined the Commission in 2001 as a Staff Attorney and held various positions of increasing responsibility during her tenure including Acting Director, Deputy Director and Special Counsel to the Director.
Before returning to the Commission, Ms. Schock worked for FINRA's Office of Investor Education and the Center for Audit Quality. She received her Juris Doctorate and Master's of Taxation from the University of Akron and her Bachelor of Arts from Furman University.
$5 tickets may be purchased at the door and include admission to the Museum. Feel free to bring your lunch. For information call Lindsay Seeger at 212-908-4110.