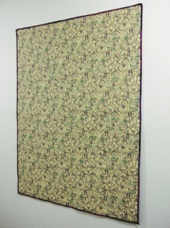 Albert Crudo, Securities Blanket, 2009.
Tuesday, November 10, 2009 | 5:00 PM to 7:00 PM
Join us as we celebrate the completion of the Museum Shop, and meet some of the artists and authors whose works are featured in the Shop. Our special guests will be on hand to discuss their projects and autograph copies of their works. Participants include Lori Savastano, Mike Rollins, Ellen Fisch, Scott LaPerruque, Johnny Swing, Naima Rauam, Albert Crudo, Hedy Pegranmanski, Ken Winans, Robert Gambee, Matthew Fink, Dorothy Laager Miller, Joanne Medvecky and Barbara Rizek, among others.
Attendees will receive a 20% discount on all items purchased during this event, as well as a 20% Shop purchase discount on their next visit with receipt.
This event is FREE and open to the public.


MENU
Mini Quiche
Mini Spinach Pies
prosciutto and Fresh Mozzarella Foccacia Triangles
Mediterranean Spreads with Pita Points
Mini Ham and Cheese Croque Monsieur
Stuffed Mushrooms with Feta and Herbs