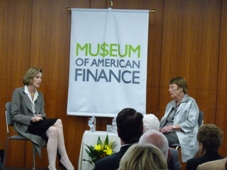 Wednesday, October 7, 2009 | 5:30 PM to 7:00 PM
Join us for a conversation with one of the groundbreaking women featured in the Museum's "Women of Wall Street" exhibit. Sallie Krawcheck, who is among the most senior women in finance, will share her observations from two decades on Wall Street in a dialog with
Fortune
magazine's Carol Loomis.
Sallie Krawcheck is president, Bank of America Global Wealth & Investment Management, one of the world's largest wealth management organizations, which includes the Merrill Lynch and U.S. Trust private wealth management businesses. Widely viewed as one of the most dynamic young executives in American finance, Ms. Krawcheck joined Bank of America after serving many roles at Citi: CEO and chairman of Citi Global Wealth Management; Chief Financial Officer; and CEO and Chairman of Smith Barney. As chairman and CEO of Sanford C. Bernstein & Co., she became an influential voice for research quality and integrity. Ms. Krawcheck has been recognized by both Fortune and Forbes as one of the "Most Powerful Women" in business, by CNBC as a "Business Leader of the Future" and Time as one of the "Global Business Influentials."
Carol Loomis, a Fortune senior editor-at-large, has been on the editorial staff of the magazine for 55 years. She writes primarily about financial subjects and has also done many profiles, including articles about Sandy Weill, Robert Rubin and Warren Buffett (whose annual letter to Berkshire Hathaway shareholders she has also edited for 32 years). She has won many awards for her writing. Among these are four lifetime achievement awards: the Gerald M. Loeb Lifetime Achievement Award (1993); the Women's Economic Round Table award (2000) for print journalists, of which she was the first recipient; Time Inc.'s Henry R. Luce Award (2001), of which she was also the first recipient; and the Society of American Business Editors and Writers Distinguished Achievement Award (2006).