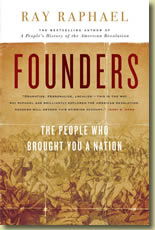 Thursday, October 1, 2009 | 12:30 PM to 1:30 PM
There were no second or third choices. In 1781, everyone knew that only one man could possibly save the bankrupt government. Like him or not, and many did not, members of Congress begged the richest man in the country to reverse the worst financial crisis ever to plague the nation. Robert Morris extracted from Congress unprecedented powers, but he delivered. "THE Financier," as he was called, offered his own personal credit (which people valued) in lieu of Continental currency (which they did not).
Why don't we know more about THE Financier, the man who exercised more control over the government than any president? Now, as we deal with our own financial crisis, the tale of the most powerful civilian of the Founding Era has an eerie resonance and magnetic pull. It is time to tell it.
Ray Raphael is author of A People's History of the American Revolution (2001), The First American Revolution: Before Lexington and Concord (2002), Founding Myths: Stories that Hide our Patriotic Past (2004), and most recently Founders: The People Who Brought You a Nation (2009), which features Robert Morris as one of seven lead characters.
$5 tickets may be purchased at the door and include admission to the Museum. Talk will be followed by a book sale and signing. Feel free to bring your lunch.