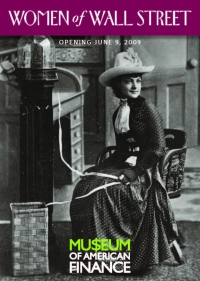 Tuesday, July 21, 2009 | 1:00 PM to 2:30 PM
Bold, beautiful, and influential. Discover the female power brokers who have shaped the history of Wall Street. Your guide, a veteran of Wall Street herself, will expose the women who dared to infiltrate this male-dominated industry. This tour highlights women such as Victoria Woodhull, who ran for President and opened the first woman-owned brokerage in 1870, Muriel Siebert, the first women to purchase a seat at the New York Stock Exchange, and many of the women who are moving and shaking the financial world today.
Tour meets at the Museum and costs $15 per person, which includes admission to the Museum.
Reservations are now closed for this tour, as it is fully booked.