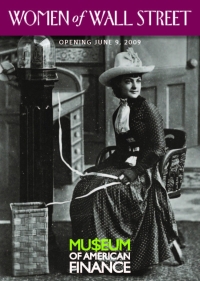 Tuesday, June 9, 2009 | 5:30 PM to 7:00 PM
Please join the Museum of American Finance for a reception to open "Women of Wall Street," a groundbreaking new exhibit showcasing several notable women in the world of finance and Wall Street, both historically and in modern times.
Opening reception will feature remarks by Muriel Siebert, the first woman to purchase a seat on the NYSE.
PLEASE NOTE: RESERVATIONS FOR THIS EVENT ARE NOW CLOSED.