Grade Levels: Middle School, High School, College
Program Duration: 45 minutes
Booking Type: Special Request
Price: $400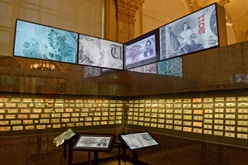 This classroom lesson, based on the Museum's Money Room exhibit, will help students understand the evolution of money in America including how the change from many different bank-issued notes to one federal currency helped unify the country. Students will also learn about how the Bureau of Engraving and Printing protects against counterfeiting.
To request this class at the Museum, please click here.
To request this class at your school, please click here.