Grade Levels: High School, College, Adult
Program Duration: 45 minutes - 1 hour
Booking Type: Special Request
Price: $500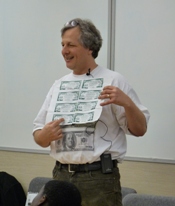 Harley Spiller, a museum professional and collections expert, presents his mind-boggling collection of unusual artifacts and little-known information from the world of currency and coins. Spiller regales audiences with surprising and true stories, like the one about the bank manager who threw away hundreds of dollars in dumpsters every year – and was rewarded for doing so. Learn to protect yourself against dishonesty, discuss strategies used by the visually impaired, and see how nations of the world put their best foot forward on their paper money. Use magnet detectors, ultra-violet lights, and other anti-counterfeiting devices as Spiller reveals the active ingredient in counterfeit-detecting markers and other secrets behind U.S. currency. Handle his extraordinary collection of unusual government misprints, offbeat bills and coins, and notes designed or altered by important modern artists Alberto Giacometti, J.S.G. Boggs, Peggy Diggs, Nicolas Dumit Estevez and others.
Through three decades of professional museum experience, Harley has garnered over a dozen reviews in The New York Times alone. His international coin, currency and exonumia collections have been presented at The New-York Historical Society, CUNY's John Jay College of Criminal Justice, The Stamford Museum, The Queens Museum of Art, The Bank Street School and elsewhere. A graduate of Northwestern University, Harley is expecting his M.A. from The New School for Social Research in May 2010.