Grade Levels: College, Adult
Booking Type: Special Request
Price: BASED ON AVAILABILITY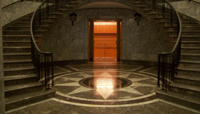 View 10 of the most important artifacts entrusted to the Museum and not on display for the public. The artifacts relate people, places and time. This special class is for groups seeking a unique Museum experience. Artifacts may include the first bank check ever issued in the US, a promissory note signed by Benjamin Franklin to a Revolutionary War soldier; John D. Rockefeller's personal Standard Oil stock certificate; and a $5 national currency note signed by America's most famous banker, J.P. Morgan, as president of the National Bank of Commerce in New York.
This class is only available upon request, requires additional security and has limited availability. Groups interested must call for additional information. Please call 212-908-4110 for pricing and booking information.