Grade Levels: High School, College, Adults
Program Duration: 45 minutes - 1 hour
Booking Type: Special Request
Price: $500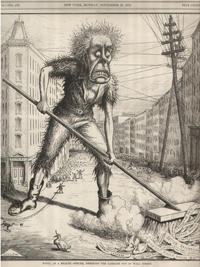 "Booms, Bubbles and Busts" takes students through the history of financial bubbles focusing on the United States. Students learn about the cyclical pattern of bubbles, common causes and how the economy adapts and regulates. Seen through the lens of editorial cartoons from the Museum's collection as well as other sources, students learn both how to interpret political cartoons and how to find common threads through history to identify booms and busts.
This course is only for advanced high school students (11th and 12th grades) with a background in US History, Economics or Finance. It is an excellent prep course for the United States and Government section of the New York Regents exam, which requires students to interpret political cartoons.