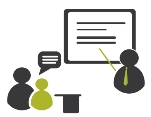 The Museum offers 45-60 minute classes taught by museum educators and industry professionals. Classes must be booked at least two weeks in advance. The classes below may be self booked and cost $300 per class. All other classes are by request ONLY and cost $500 per class. Museum admission is included with each class (min. 8 students / max. 40 students).
Four classes are available for self booking through our online reservation system:
1) Financial Markets 1
2) Financial Markets 2
3) Open Outcry: Trading Then and Now
4) Your Money & Your Success
Detailed descriptions of all available classes can be found below.