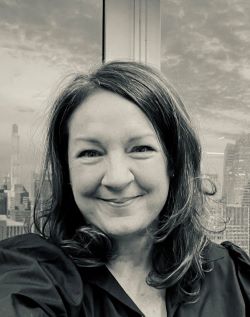 Kimberly Williams Weinrick

Kimberly Weinrick leads Public Affairs for OppenheimerFunds, a global asset manager. She is the Corporate Spokesperson for the firm, and is responsible for guiding the external communications, including media relations and outreach. In addition, Kimberly is responsible for the firm's Philanthropy & Community initiatives with a focus on math literacy programs.
Prior to joining OppenheimerFunds, Kimberly managed executive communications for J.P. Morgan's Investment Banking business, and before that communications for the Global Commodities practice. At J.P. Morgan, she also looked after the Corporate Responsibility efforts for the business, and led an international skills-based volunteer program with Bankers without Borders. Prior to J.P. Morgan's acquisition of select businesses from RBS Sempra Commodities, she served as interim head of corporate communications. She also served as Head of Public Relations at Lord Abbett, a privately held asset management firm. Before that she was the Director of Corporate Communications and Sustainability for ABN AMRO, which acquired selected business from ING Barings, where she was Head of Media Relations for the Americas. Earlier in her career she was a press officer with the New York Stock Exchange and Ladenburg Thalmann.
Kimberly is actively involved in the Financial Women's Association as a board member and served as FWA President (2013-2014). Kimberly received a BA from Florida State University, with focus on Economics and German studies, and attended the University of Bonn, Germany for Graduate Studies on The Economic Reunification of Germany. She is a member of the Museum's Communications Executives Advisory Panel.