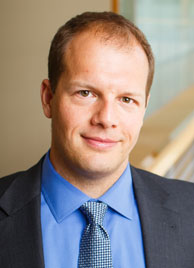 Chad Syverson

Chad Syverson is the J. Baum Harris Professor of Economics at The University of Chicago. His research spans several topics, with a particular focus on the interactions of firm structure, market structure, and productivity. His research has been published in several top journals and has earned multiple National Science Foundation Awards. He also coauthored (with Austan Goolsbee and Steve Levitt) an intermediate-level text, Microeconomics.
"My engineering background definitely spurred my research interest in productivity. I like to visit factories and investigate how things are put together, what can go wrong when they are, and what factors influence companies' operating success (or lack thereof)."
Syverson serves as an editor of the RAND Journal of Economics and is on the editorial board of several other journals. He is a research associate of the National Bureau of Economic Research and has recently served on National Academies committees and as the chair of the Chicago Census Research Data Center Board. Prior to his appointment at the University of Chicago, Syverson was a mechanical engineer co-op for Loral Defense Systems and Unisys Corporation.
He earned two bachelor's degrees in 1996 from the University of North Dakota, one in economics and one in mechanical engineering. He earned his Ph.D. in Economics in 2001 from the University of Maryland. Syverson joined the Chicago Booth faculty in 2008.
Dr. Syverson will speak at the "Restoring American Economic Dynamism" conference on November 28.