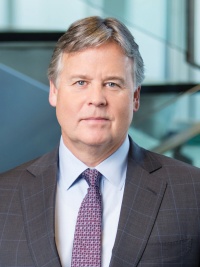 Brad Peterson

Brad Peterson currently serves as Executive Vice President and Chief Technology and Chief Information Officer (CTO/CIO) for Nasdaq.
Before Nasdaq, he served as CIO and EVP for Schwab Technology Services (STS), responsible for Schwab's technology innovation, development, infrastructure and operations. While leading Schwab's technology enterprise, Brad also was responsible for Project Services (which covered the planning, coordination and financial management of all company-wide projects) and Offshore Services (leveraging third-party offshore capabilities whenever appropriate).
Brad served as CIO at eBay for five years. He was the Managing Director and Chief Operating Officer (COO) at Epoch Securities after its merger with Goldman Sachs Group, Inc. He also has held senior executive positions at companies including Epoch Partners, Schwab, Pacific Bell Wireless and Pacific Telesis (now part of AT&T).
He earned his master's degree in management at MIT Sloan School of Management and a bachelor's degree in systems science and economics at the University of California, Los Angeles (UCLA). He has been a member of the Museum's Board of Trustees since 2021.