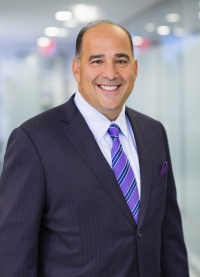 Chris Perry

Chris Perry serves as President of Global Sales, Marketing and Client Solutions at Broadridge Financial Solutions. With over $4 billion in revenues and part of the S&P 500® Index, Broadridge is a global Fintech leader enabling corporate governance, powering capital markets and helping wealth and asset management firms grow worldwide.
Chris joined Broadridge in 2014 and as a member of the Executive Committee, he oversees all client and market-facing activities globally and is responsible for delivering the company's annual sales targets spanning all business units and product lines. During his tenure, he has implemented both strategic and tactical programs aimed at achieving world-class service in customer support, account management, client training, lead generation and marketing. He has also been a driving force behind the transformation of the organization from a portfolio of companies to an enterprise cloud-based services provider. Broadridge has enjoyed five years of consecutive record setting sales under Chris' leadership.
Over the previous 14 years, Chris has held numerous management and commercial roles at Thomson Reuters and its predecessor, Thomson Financial. There he served as Global Managing Director of Risk for the Financial and Risk Division, where he was responsible for overseeing Governance, Risk and Compliance, as well as Pricing and Reference services. He was accountable for all aspects of management—including P&L responsibility—for approximately $700 million in annual revenue during an active acquisition and growth phase. Previously, he served as President of Global Sales and Account Management of the Financial and Risk Division overseeing 4,000 professionals worldwide. Earlier in his career, Chris worked in institutional trading and retail brokerage.
Chris holds a BS in Finance and Economics from Northern Illinois University and an MBA in Marketing from Lewis University. He has been a member of the Museum's Board of Trustees since 2021.