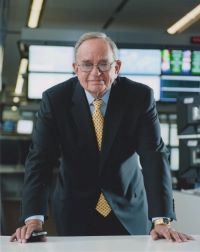 Leo Melamed | 2022 Financial Innovation Award Recipient

Leo Melamed is the founder of financial futures. In 1972, as chairman of the Chicago Mercantile Exchange (CME Group), he revolutionized markets with the creation of the International Monetary Market (IMM)--the first futures exchange for financial instruments and the launch of currency futures. In the years that followed, Melamed led the CME in the introduction of a diverse number of financial instruments including Treasury Bills in 1976, Eurodollars in 1981, and Stock Index Futures in 1982. Twenty years after their inception, Nobel Laureate in Economics, Merton Miller, named Financial Futures as "the most significant innovation of the past two decades."
In 1987, Melamed revolutionized futures trading again with the founding of Globex® the world's first futures electronic trading system. Melamed, a Holocaust survivor, found safety in the US during World War II. The story of his escape as a child from Bialystok, Poland, as he and his parents miraculously outwitted the Nazis and the KGB, was an odyssey that took two years, spanned three continents, six languages, the Trans-Siberian railroad, and Japan--courtesy of a life-saving transit visa from Japanese Counsel General to Lithuania, Chiune Sugihara--happily ending in the United States in 1941. Melamed is Chairman Emeritus of the CME Group and was a member of its Board, and chairman of its Strategic Steering Committee until his retirement in May of 2018.
In 1982, Mr. Melamed led the futures industry in the creation of the National Futures Association (NFA), an industrywide self-regulatory organization. He serves as its Permanent Special Advisor. Melamed has been an adviser to the US Commodity Futures Trading Commission (CFTC) and has served as special adviser on futures markets to governments worldwide. In 2010, he was appointed to the International Advisory Council (IAC) of the China Securities Regulatory Commission (CSRC). In 2018, Melamed served as Advisor to the Japanese regulator JFSA. At the close of the last century, Leo Melamed was named by the former editor of the Chicago Tribune "among the ten most important Chicagoans in business of the 20th Century."
In 2021 Mr. Melamed published his definitive memoirs, Man of the Futures (Harriman House). His prize-winning memoirs, Escape to the Futures (Wiley, 1996), as well as his history of Globex, For Crying Out Loud (Wiley, 2009), have been translated into Chinese, Japanese, Korean, Russian and Portuguese. He is also the author of Leo Melamed on the Markets (Wiley, 1993) and The Tenth Planet, a science fiction novel (Bonus Books, 1984). He was editor of an anthology, The Merits of Flexible Exchange Rates (George Mason University Press, 1988). Many of his essays and lectures can be found on his website, www.LeoMelamed.com.
Mr. Melamed is the recipient of numerous awards including: The 2005 CME Melamed-Arditti Innovation Award, and the 2016 State of Illinois Order of Lincoln Award, the highest award conferred by the State of Illinois. In 2017, for achievements in initiating financial futures markets worldwide, his outstanding contribution to Japan-U.S. relationship, and for promoting recognition of Consul-General, Chiune Sugihara's life-saving deeds during World War II, Mr. Melamed received The Order of the Rising Sun, Gold and Silver Star, the highest award bestowed on an individual by the Emperor of Japan. Leo Melamed, an attorney by profession holds a Doctor of Laws Degree from John Marshall Law School. Mr. Melamed serves on the Board of the Chicago Council on Global Affairs, Leap Innovations, and Futures Fundamentals. He is Chairman and CEO of Melamed & Associates, Inc., a global consulting enterprise founded in 1993.