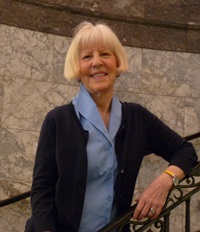 Carol Kaimowitz

Carol Kaimowitz is a Phi Beta Kappa, Magna Cum Laude graduate of Oberlin College. In 1968, she received a Fulbright Fellowship to study opera and classical song and completed her graduate studies at the Mozarteum in Salzburg, Austria. This was followed by an engagement at the Vienna Chamber Opera.
Upon her return to New York, she joined Marsh & McClennan in their International Department. Her employment in the International Property Management Home Office Department of AIG took her to London for one year and to Vienna for two years. She also worked for the Zurich Insurance Company in Zurich and New York and later joined Cigna in their International Home Office. She was a partner in her family's construction/real estate holding company.
After leaving the insurance business, she returned to her first career as a classical singer. Carol was a volunteer at the Museum of American Finance for eight years, and she spent five of those years working in the archives. She is fluent in German and has translated all of the Museum's German language documents. She has also written an article for the Museum's quarterly magazine, Financial History. She has been a member of the Museum's Board of Trustees since 2017.