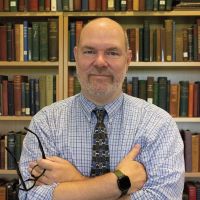 Peter C. Earle

Peter C. Earle is an economist and writer who joined the American Institute for Economic Research in 2018. Prior to that he spent over 20 years as a trader and analyst at several securities firms and hedge funds in the New York metropolitan area including Schwab Capital Markets, Fahnestock & Co., Roy G. Niederhoffer Capital Management and others, as well as starting and running a cryptocurrency consultancy (Intangible Economics, LLC).
His research focuses on financial markets, financial market history, monetary policy, cryptocurrencies, the economics of games and problems in economic measurement. He has been quoted by the Wall Street Journal, Bloomberg, Reuters, CNBC, Grant's Interest Rate Observer, NPR and in numerous other media outlets and publications. He has written hundreds of articles on finance and economics, written and edited seven books and contributed chapters to numerous others. Since 2021 he has been the managing editor of the quarterly Harwood Economic Review.
Pete is currently a Ph.D candidate in Economics at the University of Angers in Angers, France. He holds an MA in Applied Economics from American University, an MBA (Finance), and a BS in Engineering from the United States Military Academy at West Point. He has been a member of the Financial History editorial board since 2022.