Financial History Magazine

The Museum's quarterly membership magazine, Financial History, is the internationally-recognized source for the history of commerce and the development of the American capital markets. Each issue features articles about the people, companies and events that have contributed to the nation's financial system, with the intention of lending perspective to current business and financial issues.
Museum Collection

As part of its mission to document the history and practice of finance in the United States, the Museum actively collects documents and artifacts related to capital markets, money and banking in America. The collection includes stocks, bonds, prints, engravings and photographs, banknotes, 19th-century checks and books.
Books and Catalogs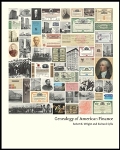 The Museum regularly publishes on subjects pertaining to the history of finance. In addition to its quarterly membership magazine, Financial History, it publishes books and exhibition catalogs including, most recently, The Revolutionary Beginning of the American Stock Market, which features many of the documents in the "America's First IPO" exhibit.