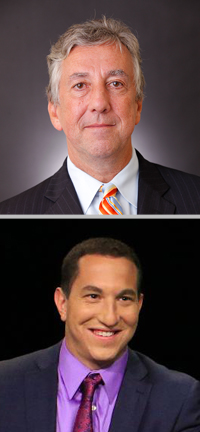 Wednesday, June 14, 2017 | 12:30 PM to 01:30 PM
MUSEUM OF AMERICAN FINANCE
48 Wall Street | New York, NY 10005
Tel: 212.908.4110 | Fax: 212.742.0573
Join Robert Johnson of the Institute for New Economic Thinking in conversation with PBS host Alexander Heffner on the future of American democracy and finance. They will explore the historical, present and future relationship between democratic values and economic prosperity.
About Robert Johnson
Rob Johnson serves as President of the Institute for New Economic Thinking and a Senior Fellow and Director of the Global Finance Project for the Franklin and Eleanor Roosevelt Institute in New York. He is an international investor and consultant to investment funds on issues of portfolio strategy, and he recently served on the United Nations Commission of Experts on International Monetary Reform under the Chairmanship of Joseph Stiglitz. Previously, Johnson was a Managing Director at Soros Fund Management and a Managing Director at Bankers Trust Company. He also served as Chief Economist of the US Senate Banking Committee and was Senior Economist of the US Senate Budget Committee.
About Alexander Heffner
Alexander Heffner is the host of "The Open Mind" on PBS and was a special correspondent for PBS's "Need to Know" chronicling the Millennial vote in 2012. His writing has appeared in The Wall Street Journal, The Washington Post, The Boston Globe, The Philadelphia Inquirer, USA Today, Newsday and RealClearPolitics, among other leading newspapers and magazines. He has been interviewed about politics, education and stories in the news by PBS, C-SPAN, CNN and the BBC, among other national and local broadcast venues. He was political director and correspondent for WHRB 95.3 FM and host and managing editor of "The Political Arena," a Sunday afternoon public affairs broadcast.
Conversation will be followed by Q&A. $5 tickets include Museum admission; members and students free. Feel free to bring your lunch.