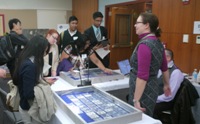 Thursday, October 23, 2014
MUSEUM OF AMERICAN FINANCE
48 Wall Street | New York, NY 10005
Tel: 212.908.4110 | Fax: 212.742.0573
The fourth annual Wall Street numismatic show (formerly the Wall Street Bourse) will once again take place at the Museum of American Finance. Themed "America the Beautiful" this year, dealers from near and far will trade, sell and tell stories about their coins, stock certificates, paper money, medals, autographs and other financial memorabilia.
Archives International Auctions will hold an auction on Saturday, October 25, at 10:30 am in the Museum gallery. The event will also feature the 2014 Anniversary Celebration of Important Global Companies. Admission to the show, auction and Museum will be FREE, allowing event attendees to view the Museum's exhibits.
Show hours:
Thursday, October 23, 12 pm – 7 pm
Friday, October 24, 10 am - 4 pm
Saturday, October 25, 10 am - 3 pm (Auction 10:30 am)
For more information on the show, please visit www.wallstreetbourse.com or call 203-292-6819.
For more information on the auction, please e-mail info@archivesinternational.com or call 201-944-4800.