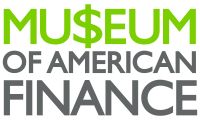 The Museum of American Finance is the nation's only independent museum dedicated to preserving, exhibiting and teaching about American finance and financial history. Housed in an historic bank building on Wall Street, the Museum's magnificent grand mezzanine banking hall provides an ideal setting for permanent exhibits on the financial markets, money, banking, entrepreneurship and Alexander Hamilton.
The Museum also offers a dynamic program of rotating exhibits and is currently showing "Barings in America: An Interactive Investment Experience" and "Tracking the Credit Crisis," a timeline illuminating the current financial crisis. Other exhibit highlights include an 18-karat solid gold and jewel encrusted Monopoly set on loan from the Smithsonian National Museum of Natural History, a certificate from the first federal bond issue signed by President George Washington and original ticker tape from the Crash of 1929.
The Museum is an independent, non-profit 501(c)(3) Smithsonian affiliate creating non-ideological presentations and programs for purposes of education and general public awareness. Financial education is at the core of the Museum's mission, seeking to promote lifelong learning and inquiry.
As a chronicler of American financial achievement and development, the Museum seeks to play a special role as a guardian of America's collective financial memory, as well as a presenter and interpreter of current financial issues, thereby connecting the past with the present while serving as a guide for the future.