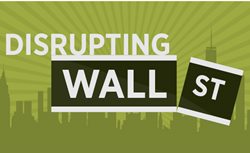 New York, NY – The Museum of American Finance will launch a new monthly video series featuring C-Suite executives from across the financial industry discussing "Disrupting Wall Street," a conversation on how technology is impacting their own companies and their particular industry segments. A follow-up to the recent CEO Video Series, the C-Suite Series Part 2 continues the successful collaboration between the Museum and Cheddar Media, a live and on demand news network covering technology, media and entertainment, which broadcasts daily from the floor of the New York Stock Exchange.
The first video in the series, featuring Museum President & CEO David Cowen with Cheddar Founder & CEO Jon Steinberg, will debut on October 25 on the Museum's YouTube channel (YouTube.com/FinanceMuseum), as well as on Cheddar's website and across both organizations' social media platforms. Each month, the featured executives, with such titles as President, Chief Technology Officer, Chief Digital Officer, Chief Information Officer and Chief Innovation Officer, will appear on CheddarTV, as well.
According to Museum of American Finance President David Cowen, the impact of technology on the transformation of financial services is among the most critical topics in the industry today. "The new C-Suite Series will help us share personal insights on how technology is reshaping the financial industry and broadening access to financial services," he said.
The companies participating in this series are:
Fitch Solutions (November - VIDEO AVAILABLE)
Broadridge Financial Solutions (December - VIDEO AVAILABLE)
Protiviti (January - VIDEO AVAILABLE)
Citi (February - VIDEO AVAILABLE)
TIAA (March - VIDEO AVAILABLE)
CommonBond (April - VIDEO AVAILABLE)
New York Life (May - VIDEO AVAILABLE)
Chase (June)
Wells Fargo (June)
Cheddar CEO and Founder Jon Steinberg said, "I'm excited to continue working with the Museum of American Finance on 'Disrupting Wall Street.' Stories about innovation and disruption in finance are at the core of what we are doing at Cheddar, so we jumped on the opportunity to bring even more of this substantive content to our audience."
About the Museum of American Finance
The Museum of American Finance, an affiliate of the Smithsonian Institution, is the nation's only independent museum dedicated to preserving, exhibiting and teaching about American finance and financial history. With its extensive collection of financial documents and objects, as well as its seminars, events, educational programming and publications, the Museum portrays the breadth and richness of American financial history, achievement and practices.
About Cheddar
Cheddar is a live and on demand video news network focused on covering the most innovative products, technologies and services transforming our lives. The network covers this news through the lens of the companies and executives driving these changes. A unique and live approach to news in technology, media and entertainment, Cheddar is broadcast daily from the New York Stock Exchange floor, with exclusive CEO and founder interviews, and profiles of the technologies and companies transforming our lives.
Media Contact:
Kristin Aguilera, Museum of American Finance
212-908-4695, kaguilera@moaf.org