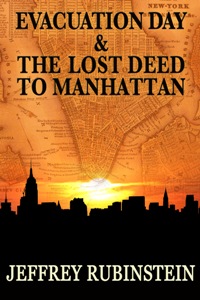 Tuesday, November 25, 2014
MUSEUM OF AMERICAN FINANCE
48 Wall Street | New York, NY 10005
Tel: 212.908.4110 | Fax: 212.742.0573
Celebrated on November 25, Evacuation Day marks the removal of the last British soldier from Manhattan at the end of the Revolutionary War. Jeffrey Rubinstein is the author of the novel, Evacuation Day & The Lost Deed to Manhattan. Set during the 2003 blackout, this historically-based thriller connects Alexander Hamilton, the nation's oldest military unit and the lost Deed to Manhattan to Evacuation Day.
Learn about the rise and fall of Evacuation Day as a New York City holiday. In addition, the author will reveal Alexander Hamilton's connection to the nation's oldest military unit, which was formed on Manhattan prior to the signing of the Declaration of Independence.
Finally, listen to Rubinstein's analysis regarding Manhattan's birth certificate, the fundamental question as to where the Deed to Manhattan is located and who "indeed" owns the Earth's most valuable island.
About the Author:
Jeffrey Rubinstein practices civil litigation and is a partner at Faust Goetz Schenker & Blee LLP. He obtained a degree in history from Columbia University. Born in North Miami, Florida, he has resided on Manhattan since 1996.
Talk will be followed by Q&A and book signing. $5 tickets include Museum admission. Museum members and students are admitted free. Feel free to bring your lunch.